Blog by Tag: democracy
Today we had our class vote for the student council and we are so very proud to announce that these children will be our class representatives. I am sure they will do a fabulous job. Well done.
Category: Parrots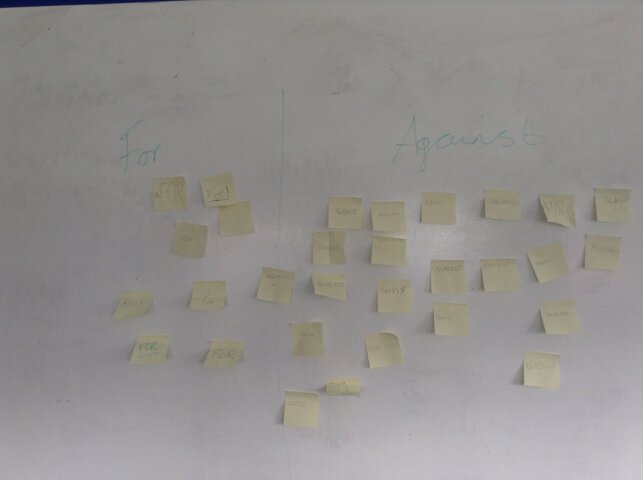 In English we are currently reading Kensuke's Kingdom. In our English lesson, we voted if we were for or against sailing around the world with our family for 6 months.
I would love to sail around the world with my family. I love to go travelling and have been to many places around the…
Category: Hawks
hawks democracy English year5 year 6 kensuke's kingdom
We have been very busy in Parrots.
As part of our democracy work we have been voting for lots of lovely things in our new class.
We would like to say well done to our new student council members. I was extremely proud of all the children who put themselves forward for the role. It was…
Category: Parrots
We had a very exciting morning on Thursday. A special package arrived for Robins. We discussed what we thought could be inside and we were very excited to see that Father Christmas has sent one of his elves to spend Christmas with Robins.
Our new elf friend sent a lovely letter and asked us to…
Category: Robins
Robins Christmas democracy voting data tally charts elf on the shelf
The children were extremely excited when they came to class this morning and found a package had been delivered. It was marked, 'first class from the North Pole'. Inside was an Elf and a letter. We had the challenge of creating a name for our Elf. As part of democracy, we each had one vote. We…
Category: Herons
Year 2 maths Christmas herons year 1 democracy voting data tally charts elf on the shelf Buddy
This week all the children in Doves took part in voting for who they wanted to be our Student Council representatives. We are very pleased to announce that Gracie Sykes and Samuel Wilmot will be our student council representatives. Well done to you guys.
Category: Doves
In Doves Class we have been writing a balanced argument about whether we should have Bonfire Night, or not. We split the class in to two teams. One team was for Bonfire Night and wrote arguments for why we should have Bonfire Night. These arguments included spending time with family and enjoying…
Category: Doves
In OWLS our focus in PSHE is democracy. We are learning how important it is to have a choice and being able to vote.
As a class we each had to create a speech on which class monitor we wanted to be and why. We then presented this to the class and each citizen had one vote for who we thought was…
Category: Owls
owls citizen pshe democracy voting