Blog by Category: Ducklings
Eva N has been growing a sunflower from a seed, caring for it and giving it all of the things that it needs to grow. We can't wait to see it bloom!
Category: Ducklings
Understanding the World
Growing plants and seeds
Eva know lots of her tricky words. Well done!
Category: Ducklings
reading
Tricky words
phonics
Hello Ducklings and Parents,
We need your help!!
Are you a confident speaker? Would you like to be a film star? How would you like to help our new Ducklings for next year?
This is how you can help:
Sadly, our new Ducklings are unable to visit school at present and have the…
Category: Ducklings
ducklings
Induction
Well done to all of the Yellow Ducklings that joined us for our weekly Zoom Quiz meeting today.It was lovely to see you all and your lovely smiles again. You all did very well with your answers and were all very patient whist we got started! Hopefully see you again at the same time next week! Take…
Category: Ducklings
Some more amazing work from one of our Ducklings - all about frogs. He has drawn and labelled a super life cycle, written a brilliant list of words that rhyme from the story, 'Oi Frog!' and drawn his own frog and thought of his own words to describe it. All with the most beautiful cursive…
Category: Ducklings
ducklings
Life cycles
I hope that you all enjoyed the quiz this morning! Miss Hutchinson and I had lots of fun! You impressed us all with your knowledge!
We hope to do the same again in half-term week on Thursday at 10am! Hopefully see you then! Remember to think of a question for the children's question round at…
Category: Ducklings
ducklings
Jack has enjoyed lots of learning. He has been doing lots of maths, using lego to practise sharing, halving and doubling. He made some bird feeders for the garden. He drew a giant Jack on some paper and he labelled all the parts of his body and coloured himself in. Jack enjoyed learning about life…
Category: Ducklings
ducklings
Life cycles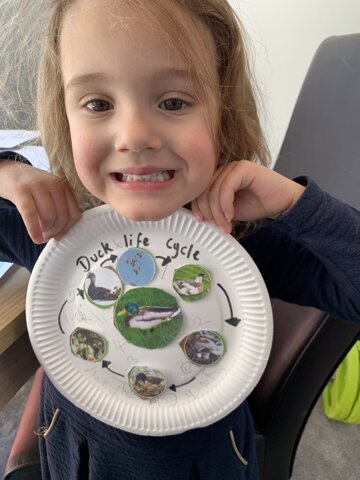 The Ducklings continue to do super home learning, with a special duck theme this week!
The Ducklings have been continuing to practise and develop their phonics, reading, writing, mathematics, physical and creative skills too! Fabulous work! Well done! We are so proud of you all.
Look at the…
Category: Ducklings
ducklings
Life cycles
homework
Hello Yellow Ducklings,
I hope that you enjoyed the zoom meeting last week! We hope to have another meeting this week, on Thursday at 10am. This time we will have a little quiz for a bit of fun. Miss Hutchinson and I will think of some questions to ask you. You might want to bring a pencil and…
Category: Ducklings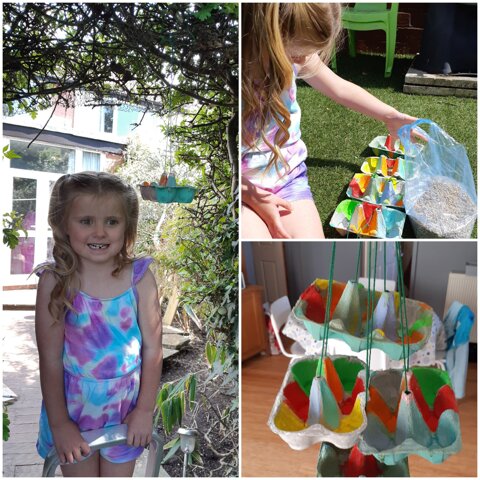 One of our Ducklings has been creating bird feeders out of recyclable materials to attract the birds to her garden. Which birds have you seen in your garden? Can you keep a record and send it in to us? Great home learning, well done!
Category: Ducklings
DT
ducklings
birds
Understanding the World
One of the Ducklings has been busy exploring the capacities of different sized containers in her paddling pool. What a brilliant idea! More super home learning from the Ducklings!
Category: Ducklings
maths
capacity
Physical development
activemaths
When I was in school this week, look at what I spotted as I returned to my car!
A couple of mallard ducks; one male (called a drake) and one female (called a hen.)
I think they had come to say, 'hello' because they knew we had been learning about the life cycle of a duck!
Have you seen…
Category: Ducklings
ducklings
Life cycles
Understanding the World