Blog Category: Ducklings
This week saw the arrival and departure of an unexpected visitor, Petal (Clive) the swan. Petal was such a sweet, timid cygnet who was as curious about the children as they were about her. After contacting Brambles, a local animal rescue centre, Petal was rehomed at a local pond where she will be…
Category: Ducklings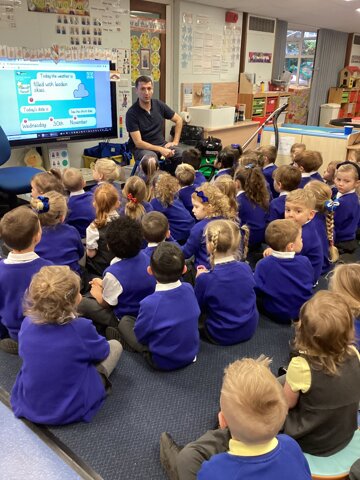 Our caretaker, Mr Luty, came in to talk about his role in our school community this week. The children enjoyed listening to him talk about all of the busy jobs he does to keep our school clean and safe. We also got to see and learn about some of the tools he uses each day in his job. George, the…
Category: Ducklings
Speaking and Listening Understanding the World community communication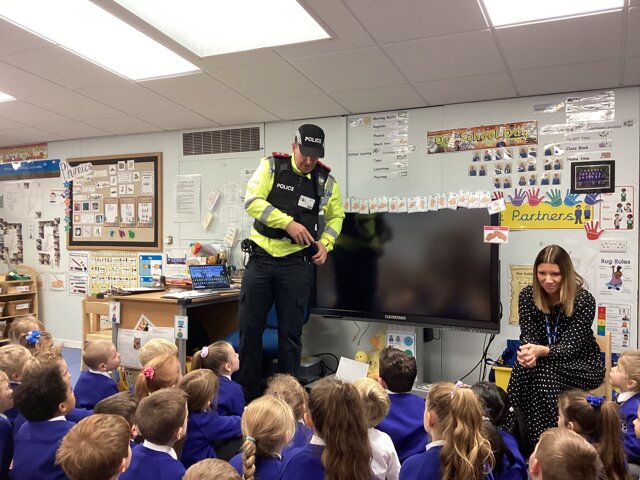 Our Ducklings and Little Chicks were lucky to have a visit from one of our school parents who is a Police Inspector. We got to learn first had about how equipment is used, why policing is such an important role in our community and how the police keep us all safe. The children asked some amazing…
Category: Ducklings
Speaking and Listening Understanding the World community communication PSED
The Ducklings have been investigating different materials to see which one would show up best in the dark, to make a hi-vis jacket. Which colour do you think would shpw up the best in the dark?
Category: Ducklings
This week, in maths, the Ducklings have been learning about 1 more and 1 less. They have been finding out what 1 more or 1 less than an amount is by adding one more object or taking one away. Some us have been confident to identify numbers that are missing from a number line and can give the…
Category: Ducklings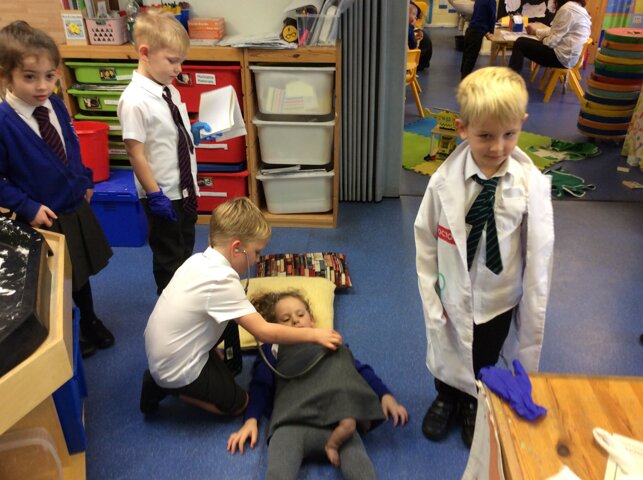 Following on from our midwife visit earlier this week, the Ducklings created their own role-play scenarios. On Friday, the doctors were called, as a baby was about to be born! They will make very caring health professionals when they grow up!
Category: Ducklings
Understanding the World Role-play
The Ducklings are grasping the new phonemes that they have been learning each week. These girls have been busy sorting objects according to whether they begin woth the sounds e,u,o, g or c.
Category: Ducklings
This week the Ducklings have been exploring different ways of arranging and making 5.
Category: Ducklings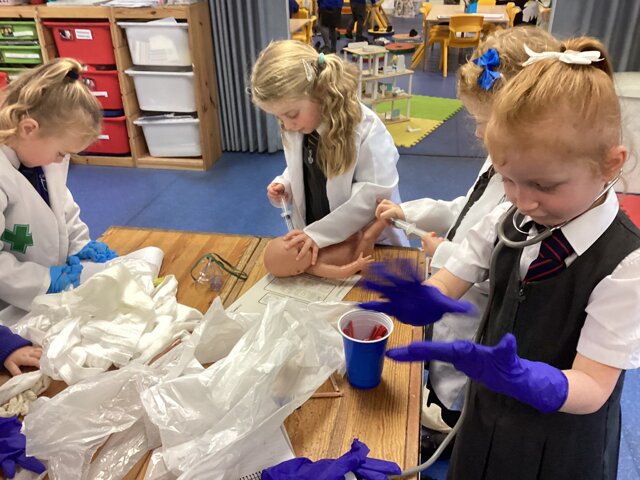 The Ducklings have loved having our visitors in this week, talking about their jobs. The children have learnt so much about the different jobs and it is now lovely to see them taking on these roles in their pretend play.
Category: Ducklings
Understanding the World Role-play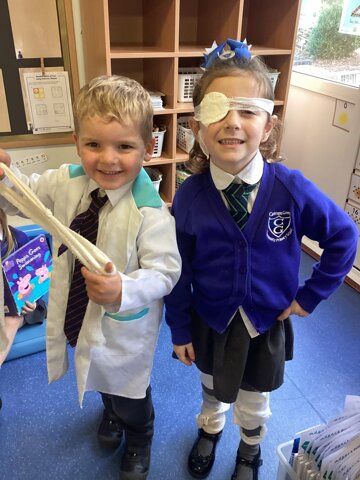 Our Ducklings have been very busy this week learning about people who keep us fit and healthy. The children have been looking after babies and making them better at the maternity hospital, enjoying the hospital role play and making one another better after various injuries and ailments. It is a…
Category: Ducklings
Understanding the World Role-play communication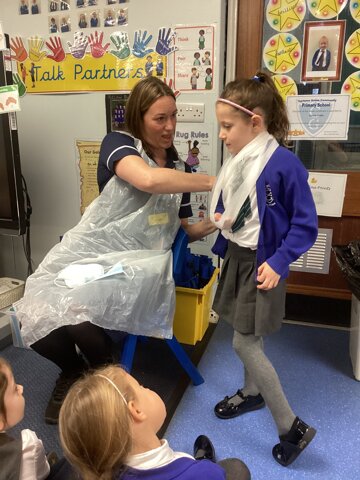 Today we had a fantastic visit from George's mummy, who is a nurse. The children got to learn all about what a busy, caring and important job a nurse does, what their job involves, how they care for others and how they keep others safe and healthy. The children got to see and handle some resources…
Category: Ducklings
Speaking and Listening Understanding the World communication PSED
Today, Otis's mum came to talk to us about her job as a midwife. The children listened with interest and had lots of interesting questions to ask her. She showed us some of the special equipment that she uses each day and we even got to meet and have a cuddle with baby Finn. Thank you for…
Category: Ducklings