Blog by Category: Ducklings
In Ducklings we love to use lots of different materials to write and apply our letters and sounds. Just take a look at how much fun can be had with a bit of flour!
Category: Ducklings
writing
In Maths today, the children have been sorting their daily jobs, routines and activities into things they do during the day and at night. What things can you think of that we do in the morning and at night?
Category: Ducklings
maths
It was an Ice cold day but that didn't stop the Ducklings, we explored the Ice in the tuff spot and practiced our writing in the frost.
Indoors we wrote fact files and used our imaginations to chalk/paint what we thought Zorg would look like. The children had some wonderful idea's and we hope…
Category: Ducklings
Jimmy has been practising spelling the tricky words by typing them using the keyboard on his laptop. Well done!
Category: Ducklings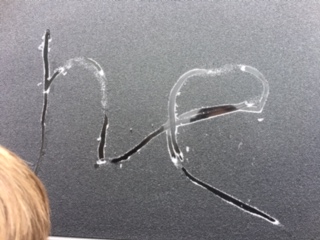 Josh had the great idea of practising writing his tricky words in the frost! What unusual ways can you think of to practise writing them?
Category: Ducklings
Our Ducklings have been using their toys to make some subtraction/take away stories. Have a look at this lovely video!
Category: Ducklings
The Ducklings have thoroughly enjoyed creating their own ideas of what they think Zorg the alien looks like, using media, materials and different tools of their own choosing.
Category: Ducklings
Today the children were given the challenge of writing sentences containing our new tricky words 'he' and 'we'. We are blown away with how well the children have taken on this challenge. Take a look at this sentence that contains both tricky words!
Category: Ducklings
writing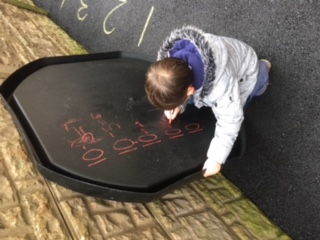 The Ducklings have been encouraged to get active and solve their subtraction problems by jumping and counting back on a number line. It's good to learn outside in the fresh air.
Category: Ducklings
The Ducklings have been making number lines and using them to count backwards on, to help them take away. Thanks for letting us chalk on your kitchen floor mummy and daddy!!
Category: Ducklings
Today we have recapped the sounds we have learnt this week, we have painted, wrote captions and found them in books.
The Ducklings thought of super questions to ask Zorg the alien using Why, How, When, What, Where and Who as a starter.
We didn't brave the rain for our maths today, however…
Category: Ducklings
The Ducklings have been writing letters to Zorg, their new alien friend. Just look at this amazing writing! This is just one example. The whole class have blown us away with their writing this week. It is stunning. Our alien can't believe that 4 and 5 year old Earthlings can write so…
Category: Ducklings