Blog
Little Chicks have had a wonderful year, learning, building friendships and growing.
Thankyou for the lovely gifts and kind words. We will miss Little Chicks but look forward to seeing them in the new term. Little Chicks who are going to a new setting we wish them all the best and to keep in…
Category: Little Chicks
Doves had a fabulous sports day on Tuesday; the weather was hot but the children kept hydrated and enjoyed cheering on their teams in the shade. Mrs Davis and Mr Powell even joined in!
Category: Doves
The Ducklings have been having a little paddle to help keep themselves nice and cool in this warm weather.
Category: Ducklings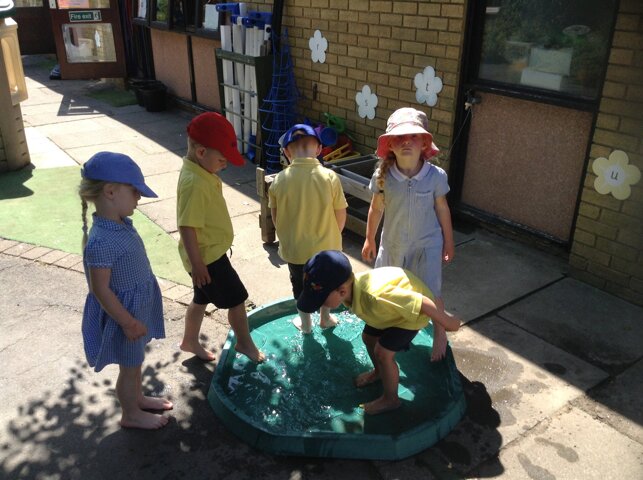 Little Chicks were enjoying paddling in the water.
Category: Little Chicks
Each afternoon this week Mrs Lees and Mrs Catterall will be coming in to read a story to us. We are really looking forward to being Ducklings!
Mrs Lees read a story about starting school.
Category: Little Chicks
On Friday we had glorious weather for our sports day. The children all thoroughly enjoyed taking part in their two chosen races and also had the chance to join in with some fun races at the end too. Well done to everyone who took part, at home and school and especially to our Gold, Silver and…
Category: Ducklings
The Ducklings have completed Stage 1 of the Right Start Pedestrian training. They had to put all of the skills that they have been learning into practise to cross the road safely with a grown-up. They were all amazing and have listened well over the last few weeks.
Category: Ducklings
Little Chicks running race. They all had a turn and got into the spirit.
Ready, Steady, Go!
Race 1 Race 2
First Cole First Alfie
Second Katie …
Category: Little Chicks
Physical development Active learning social
This afternoon, we went outside and created some Arctic pictures, using a wide range of resources. We kept in the shade and had such a fun time.
Category: Herons
Today we have recapped verbs, adverbs, adjectives and nouns. We went outside, working in groups and arrnaged various words into the categories. We then put them all into verbal sentences.
Category: Herons
Little Chicks discussed and learnt about different weather conditions. We looked at different images and weather conditions to determine what clothing should be worn. Little Chicks chose words on the screen to dress the children.
Draw a picture of your' favourite Teddy in…
Category: Little Chicks
Little Chicks have been looking at healthy foods they have drawn healthy foods on their plates. Look at healthy foods and draw onto a plate.
follow link for song https://www.youtube.com/watch?v=5dR22hbln6w
Category: Little Chicks