Blog by Tag: data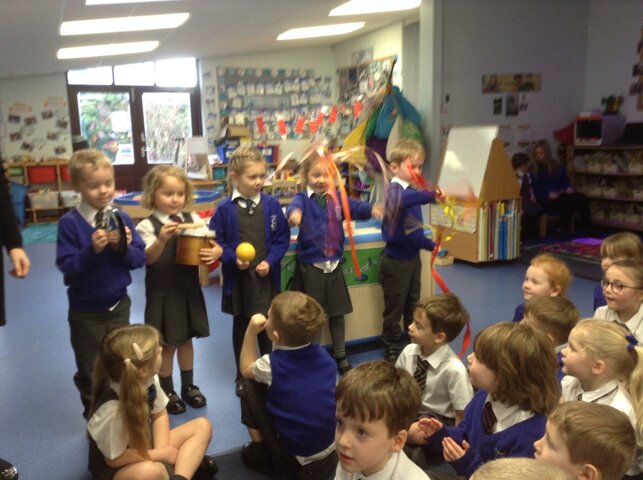 The Ducklings have learnt a new song all about Chinese New Year. They have played along to it with musical instruments and ribbons and danced.
Category: Ducklings
data Understanding the World Creative learning Singing
Today was maths problem solving day and we loved it in Herons class.
We had to solve the problem of sorting out the natural materials outside into a pictogram. We sorted out the leaves, bark, twigs and stones.
We also had the problem of interpreting our data from our tally chart. We needed…
Category: Herons
maths year2 Christmas herons year 1 outdoor learning problem solving data problem solving day data handling statistics
We had a very exciting morning on Thursday. A special package arrived for Robins. We discussed what we thought could be inside and we were very excited to see that Father Christmas has sent one of his elves to spend Christmas with Robins.
Our new elf friend sent a lovely letter and asked us to…
Category: Robins
Robins Christmas democracy voting data tally charts elf on the shelf
The children were extremely excited when they came to class this morning and found a package had been delivered. It was marked, 'first class from the North Pole'. Inside was an Elf and a letter. We had the challenge of creating a name for our Elf. As part of democracy, we each had one vote. We…
Category: Herons
Year 2 maths Christmas herons year 1 democracy voting data tally charts elf on the shelf Buddy
On Friday 17th January, Owls had a very active problem solving day. We worked in our teams to complete a jump challenge. In our teams we all had to jump, measure and record. We then had to solve problems using the data we collected. This involved converting cm…
Category: Owls
owls year3 year4 maths wordproblems KS2 PE problem solving challenge active lifestyles jumping data