What a wonderful we have had in Herons!

All of the children enjoyed making some yummy seaside shortbread biscuits.
We looked at the ingredients, read the recipe and enjoyed making the dough.
What was your favourite part?
Well done, Herons!
Category: Herons

Today, we have been talking about Remembrance Day. We talked about why Remembrance Day is special and we took part in a two minute silence.
We also discovered why we wear a poppy and we shared what we feel grateful for!
Some of us are going to a special service on Sunday too. Well done,…
Category: Herons
This afternoon, we have been talking about our mental health.
We discussed what this means and we thought about how we can keep our mind healthy.
All of the children shared different things that make them feel happy and what they can do if they have not so good…
Category: Herons
This afternoon, we had lots of fun exploring colour.
First, we looked at the work of three different artists: Picasso, Van Gogh and Andy Warhol. We discussed which portraits we liked the best and why.
Then, we used paints to explore what colours we can make using red, yellow and…
Category: Herons
In Herons, we have been enjoying our PE sessions with Keiran.
Every Wednesday, Keiran teaches some of our PE lessons to help us improve our Fundamental Skills.
This week, we have been playing games to practise our throwing and catching. We made sure we had our hands ready and used our…
Category: Herons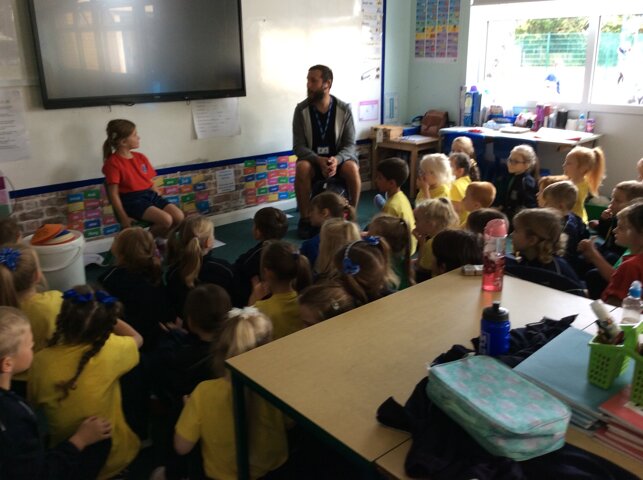 Mrs Catterall and Mr Kenyon are running a British Sign Language club for Years 1 and 2 every Wednesday lunchtime. We do this with the amazing help of Amiee. Ask them to show you what they have been learning at home.
Category: Herons
This afternoon we have been exploring what things are made of. The children enjoyed hunting around our school grounds to find different materials.
We found lots of wood, metal, plastic and glass.
What materials can you find in your home?
Category: Herons
Over the last few days, we have been talking about and remembering our Queen. The children shared some lovely thank you messages and we talked about how the news has made us feel.
We have been drawing pictures of some her favourite things. Can you remember what the Queen's favourite colour is…
Category: Herons
Wow! We have had a wonderful two days in Herons!
It has been fantastic welcoming all of the children into their new class this week. We have been learning our new routines and I have been very impressed with how quickly the children are getting used to their new classroom.
We enjoyed…
Category: Herons
Week Monday 4th- Friday 8th October.
Another lovely week in Herons.
In English this week the children have talked about different features of a diary, they have used time connectives to order events. Looked at past tense verbs and created some beautiful rainbow writing to show they can…
Category: Herons
Another wonderful week in Herons.
In English the children have been learning how to write a recount of their weekend, using time connectives, personal pronouns and adjectives. We have explored the 5W's, which have helped them write their recount. It was wonderful to hear of all the linked…
Category: Herons
Week 1-2.
Herons have had a wonderful first few weeks looking at a variety of subjects.
In science the children have explored different materials, we went on a hunt around the playground to see what interesting materials we could find, any materials they found were recorded…
Category: Herons