Blog by Tag: art
Have a look at our Christmas Cards.
How did you make yours? Whose do you like and why?
Category: Hawks
Today has been our Outdoor Learning Day in Robins. We had a fabulous day and the weather was kind to us this morning.
We carried on learning about money and we did this outside by finding different amounts of money around the playground and then we had to work out which ones matched even…
Category: Robins
art poetry outdoor learning English Outdoor Classroom Day Robins2020
The children in Parrots learnt all about the different flags for the United Kingdom. They learnt where these countries are located on a map of the UK along with which flags belong to England, Ireland, Scotland and Wales. Then the children used various different art techniques and re-created the…
Category: Parrots
This week we finished off our Art and DT. We drew pictures of a significant Blackpool figure, Charlie Cairoli and we also made a picnic blanket. We each designed a square of the blanket and then produced it using felt. We were able to sew our image onto the background colour using black thread…
Category: Robins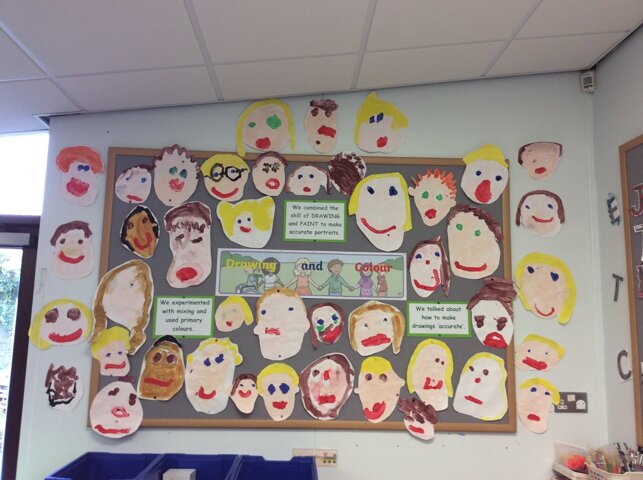 Look at all of our amazing drawings and paintings for our self-portraits. They make a lovely display.
Category: Ducklings
art portraits Creative learning
The children thoroughly enjoyed their zoom meeting with the artist Alistair Parker. He shared his artwork and discussed how he became and artist and how he creates his wonderful work. The children were amazed by his presentation and have thoroughly enjoyed recreating his artwork in class.
Lily has worked hard to create a wonderful picture using natural resources and some wonderful habitats work. Well done Lily for your continued hard work - I have enjoyed seeing your work.
Category: Falcons
Ollie has completed some lovely writing and produced a fantastic picture all about evacuees during World War 2. You have put lots of time and effort in to this and your hand writing and artwork is beautiful. Well done.
Category: Falcons
art World War Two History falcons
We have used a variety of media, techniques and tools to create London skyline images in the Blitz and made our own gas masks.
What did you enjoy during art? What strengths and weaknesses did you face when making your gas mask?
Category: Hawks
As part of our home learning this week, Lily has drawn a wonderful picture of an evacuee. Well done Lily, I love the detail you have included and the colours you have used.
Category: Falcons
Olivia has worked extremely hard and produced a wonderful piece of World War 2 inspired art about the Blitz. Well done Olivia - the colours you have chosen look really effective. It is a wonderful piece and I am very proud of you.
Category: Falcons
A huge well done to this young man who has completed a fantastic piece of World War 2 inspired art.I am very proud of the work you have completed.
Category: Falcons