This afternoon we explored the sounds some musical instruments make in order to create a piece of music to depict a Roman battle. We then used this music to create a "battle/ invasion" dance. The Yellow Team were the Romans, as you can see from their victorious stance.
In the wing we created…
art music DT Creative learning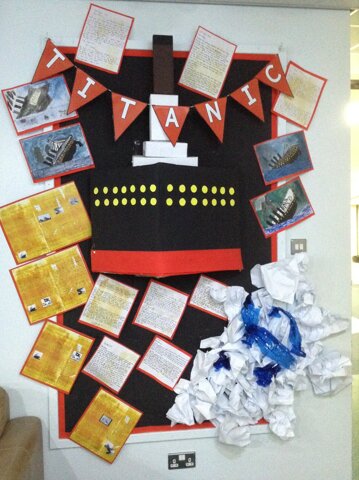 We are loving learning about the Titanic!
This week we have created newspaper articles, written the day after the disaster and have begun to write menus for the 1st, 2nd and 3rd class passengers.
Have a look at our work so far. We have not only written articles and menus but we have…
Category: Hawks
art writing hawks display English big write year5 year 6 disaster strikes titanic
The Ducklings have been exploring mixing different colours of paint to see how many different 'pea' green shades they can make as part of our Princess and the Pea topic.
Category: Ducklings
In Hawks, we have started learning about the disaster of the Titanic.

What do you know so far?
What do you want to find?
If you have any non-fiction books about the Titanic or any other disasters, please bring them into school.
In art we created images of the Titanic sinking using a range…
Category: Hawks
art hawks History geography KS2 year5 year 6 disaster strikes titanic
It has been a very exciting start to the Doves' year. Jordan
We made Shields. Ruben.
We made mozaics. Nathaniel
Mr Cooper made a camp fire and we cooked potatoes on it. Evie.
We had a Roman invasion. Hannah
Some really fun stuff has been going on. Max
We tried some Roman…
Category: Doves
art DT Creative learning 3D shapes
This term Art club has showcased their talents using the media of pencil. The children have learned and applied new drawing techniques and have produced some outstanding work.
The Ducklings have enjoyed creating Christmas crafts out of twigs for the Christmas fair. They were really careful using the saw and the glue gun. They were very popular and sold well.
Category: Ducklings
art Christmas Physical development Creative learning Christmas Market
As part of our topic we have been learning about the artist Wassily Kandinsky who produced abstracted pieces of art which where inspired by listening to music. In Hawks we created one of his pieces using CDs and wool by weaving.
What can you find out about this piece of art we…
Category: Hawks
art music hawks KS2 year5 year 6 Kandinsky
We have been huffing and puffing, like the big bad wolf, to make some paintings.
Category: Ducklings
The children used clay to make diva lamps. They used tools and beads to decorate them.
https://www.carletongreen.lancs.sch.uk/photo-galleries/making-diva-lamps
Category: Ducklings
The Ducklings have enjoyed making bonfire pictures using lots of different media and materials.
Category: Ducklings
Great fun was had by all splattering paint and sprinkling glitter to create firework skies!
I think Miss Wilson also got paint splattered too though! Whoops!
Category: Ducklings
art outdoor learning Creative learning