Blog by Tag: display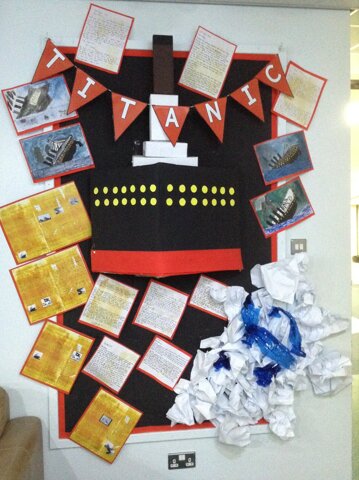 We are loving learning about the Titanic!
This week we have created newspaper articles, written the day after the disaster and have begun to write menus for the 1st, 2nd and 3rd class passengers.
Have a look at our work so far. We have not only written articles and menus but we have…
Category: Hawks
art writing hawks display English big write year5 year 6 disaster strikes titanic
For our 'Silent Night' display, we made houses and log cabins using nets to make 3D shapes. We drew around the nets and measured some of the edges. We converted cm to mm, mm to m and cm to m.
What did you enjoy most about the lesson? What 3D shape did you make? Did you find any of it…
Category: Hawks
maths Christmas hawks display year5 year6 3D shapes nets
Please could your child bring a photograph of themselves showing off a talent e.g. in football kit after a match etc. This photo will be copied and put up on display. Many thanks,
Mr. Vaughan
Category: Falcons
This week in art, we have been learning how to print using objects around the classroom and growing objects. We created patterns and then created an image. We have spent the week looking at newspaper articles and watching the news. We have chosen to write newspaper articles about the Royal Wedding…
Category: Herons
Year 2 art herons year 1 display printing royal wedding
On Tuesday 18th April as a whole school we had an Art and RE Day. Our focus was the Easter Story and the symbols of the Holy Spirit. To start we presentented our homework, 'What does Easter mean to me?' We then looked at the symbol we has been given by Mrs Lees and Mrs Wills. Our symbol was water.…
Category: Owls
owls year3 art year4 water display RE helping others symbols
On Friday 6th Januray 2017, Owls and the rest of school had an exciting first day after the Christmas holiday; it was Design and Technology Day.
Our classic novel is Oliver Twist by Charles Dickens. We designed and made workhouses for our display. We also started to collage Oliver…
Category: Owls
owls year3 art year4 Design and Technology display Oliver Twist Charles Dickens workhouse make
It's Christmas time...
School this year has been decorated with a Christmas Card theme.
In Owls we decided to create an open pop-up Christmas Cracker Christmas Card which has been displayed outside our classroom. We used our knowledge of onamatopoeia…
Category: Owls
owls year3 year4 Christmas crackers Christmas cards display