Blog Category: Parrots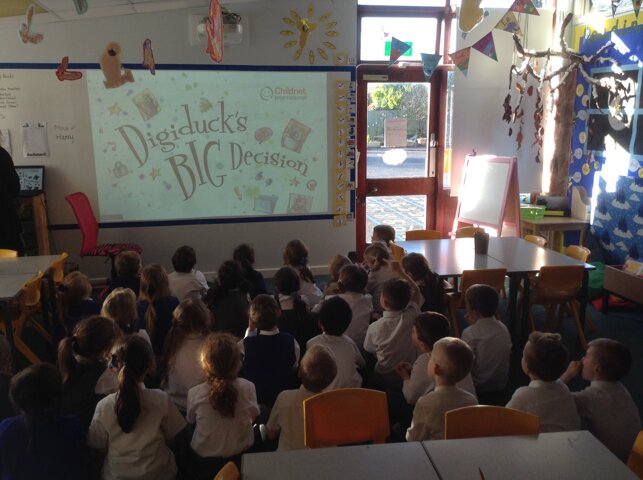 We read a story called 'Digiduck's Big Decision', in which Digiduck learned about putting photographs of his friends on the internet without their consent.
Category: Parrots
The new game is 'Hungry Monster'! Mrs Macdonald is the monster! The children loved playing the game....
Category: Parrots
In English we have been reading and writing instructions for playground games. Today we all went outside in groups to play 'Tig', 'Man Hunt', 'Hide and Seek' and 'Hopscotch', using the instructions to help us play. We all had a fabulous time!
Category: Parrots
Who can you see on the baubles?
Category: Parrots
Children from Ducklings, Herons, Robins and Parrots playing 'Hot Cross Buns' at recorder club.
Category: Parrots
The Parrots created a scene from The Great Fire of London using the houses we made during the 'Wow' afternoon before the holiday.
Category: Parrots
Today in Parrots to celebrate the end of our Robot topic Mrs. Wills brought in some healthy snacks to put together a shape snack.
We chose the crackers we wanted, used the cream cheese as glue and stuck on healthy vegetables in different shapes. Can you count how many different kinds of…
Category: Parrots
The Parrots have been learning all about robots this half term. There has been lots of exciting learning going on in class. We have been reading information books and poems in Literacy, building 3d models of robots, making shape robots, pretending to be robots and giving instructions to each other…
Category: Parrots
maths year1 reading computing year 1 parrots
The children performed songs we have been learning in music using percussion instruments to accompany them. Each group worked well together to create their own percussion arrangements.
Category: Parrots
This afternoon we got very wet and muddy when we went on a walk to look for signs of winter and spring. We noticed some of the trees already have buds, and we talked about the weather conditions. We also did some bird spotting. Here we are after our walk.
Category: Parrots
This week the children enjoyed using their recently learned skills to play 'bench ball'.
Category: Parrots
During the final part of this session the children played 'hand ball' and had lots of fun in teams, trying to score goals!
Category: Parrots